Unstuck - Coaching for Growth
Now Available for iOS and iPadOS!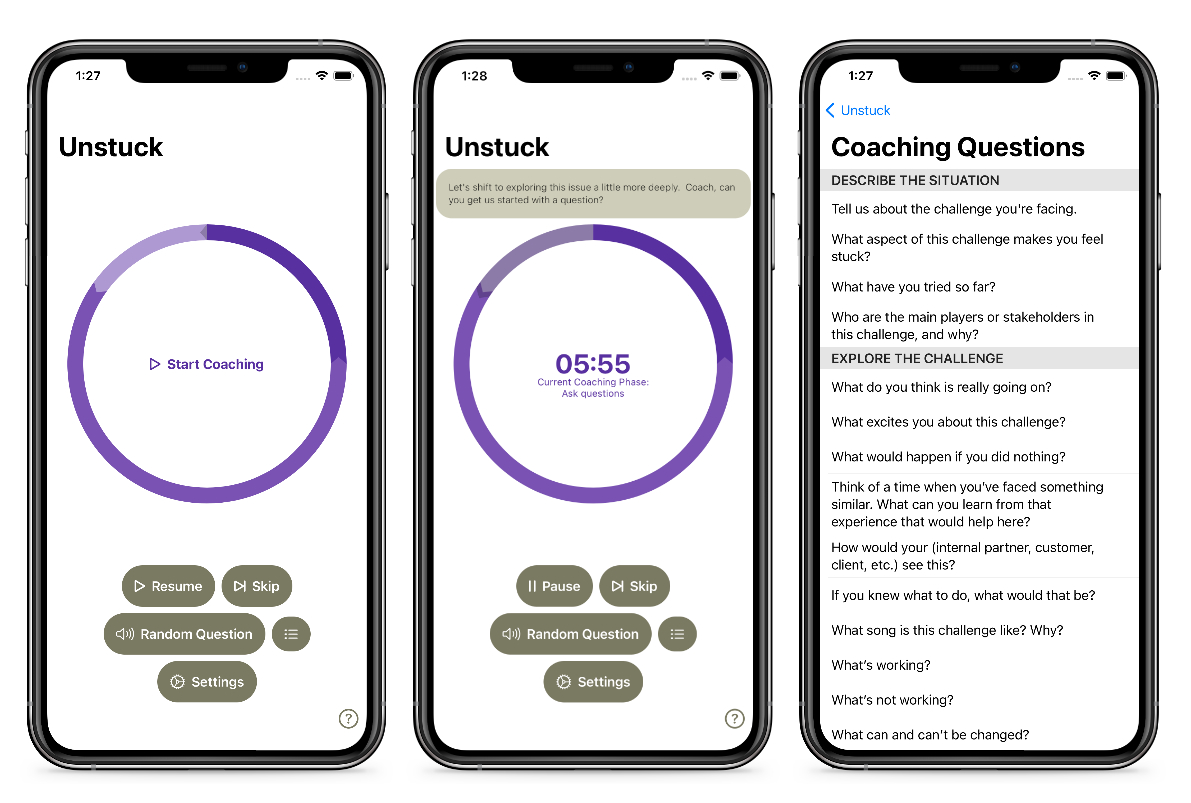 Just released to the App Store, Unstuck is a new and simple tool to help you break through difficult interpersonal, management, substantive, and organizational challenges. Unstuck guides you through the process of peer coaching – a proven approach to collaboratively solving problems. This app supports that process by providing structure, suggesting helpful coaching questions, and guiding you toward new perspectives and insights that will help you overcome whatever challenges you're facing.
What is peer coaching?
Peer coaching is a widely used framework in organizations, schools, and workplaces, as a way to collaboratively find solutions when facing a difficult challenge. In a two-person coaching session, one person is the learner – the person seeking a fresh perspective on a challenge. The other person is the coach – someone who listens and asks probing, helpful questions.
Unstuck guides you through the three stages of peer coaching: 1) The learner describes the "what, where, when, and who" of their challenge so that the coach understands the situation; 2) The coach asks questions to help the learner talk through the problem and expand their thinking; 3) Both the learner and the coach have an opportunity to reflect on what they've learned.
Unstuck leads you through these stages by tracking the time, prompting you to move on to the next stage, and even offering questions to consider. This allows you to focus on the coaching.
Why use peer coaching?
Peer coaching can help you see new approaches to difficult personal, workplace, or social challenges. But peer coaching can help in other ways, too! According to research in the Journal of Applied Behavioral Science, peer coaching can help heighten self-awareness, improve active listening skills, enhance interpersonal connections, and improve leadership skills. This is why peer coaching is taught in leadership and management training programs around the world.
How do I get started?
It's easy to get started. All you need to do is find a trusted friend or colleague willing to be your coach. Their job is to help you think through the challenge by listening and asking thoughtful questions, not giving advice or telling you what to do. Customize your Unstuck session to fit your schedule. Whether you have an hour or only 10 minutes to talk with your coach, Unstuck will help you make the most of whatever time that you have.
Can I use Unstuck on my own?
Yes! Unstuck is primarily designed to help two people do peer coaching together (in person or remotely). But by using Unstuck's built-in question library, you can be your own coach and think through challenges on your own.
Do I need special training?
No! Unstuck makes it easy to begin peer coaching. Neither the learner nor the coach needs any kind of special training or expertise – just a willingness to listen and think. And if the coach gets stuck, Unstuck can suggest questions!